Post by syzygy on Apr 27, 2016 13:11:45 GMT
Hi All!
At the beginning this thread was about only one site I have spotted near a small hungarian settlement, then it quickly upgraded to larger scales, with many more markers all around the Carpathian basin. File name is already were Aerial archeology, later when collection contained sites also from distant locations, identified on satellite imagery as well, I have also changed thread subject to this more general. By this recent update when collection contains not only sites that I have identified on imagery, but by browsing GE Layer datasets, the time has come for another change.
This work -though hard- I try to separate from my
burial mounds collection
, however some placemarks might sign this sort of earth feature. Some of the markers (e.g. Jadani triple ring,
The king grave of sunghir
or
Arkaim
) may have duplicate pairs from the oGEC forums, but I thought to include them as being important sites, also clearly visible on imagery.
Here in proposal I must advise for all who interested to visit this
archeology website
by James Q. Jacobs, download kml content and check the biggest global placemark (and other kml features) collection of ancient sites I know.
Order of updates:
Merged KMZ folder
, named
"Aerial archeology"
is attached
to this original post
. Opening file you will find
all the sites placemarked in this thread
sorted into folders and subfolders.

4 main placemark icons I use:
red/white circle, target placemarks to sign unidentified/identified sites, target sign for the kind that I have spotted first next to Medgyesegyháza, Hungary /read and look caption in 2nd half of this post below/
question mark placemarks to sign unidentified sites (no info by GE Layers) / main purpose of this thread is to find out some about these!
white circle, square placemarks to sign sites with ID, based on GE Layer infos (Photo- and Community layers) and/or those have been solved by forum contributions.
misc. icon placemarks to sign other.(: ...finds by others, special items, etc.
Trench lines
signed with
pale, white line
features.
Last stage of updates are detailed in the everytime last replies.
Turn on Photo- and GE layers for more credit on the locations!
Turn off outlines for better visibility of the features on imagery!
-------------------------------------------------------------
original opening post text body:
Bronze Age Fortified Sites in the Carpathian Basin
No further information*
yet about
these
interesting (one time)
objects next to Medgyesegyháza
remaining as clearly artificial soil pattern deviances with different surface color.
(Amongst natural soil pattern features /watercourses of one-time smaller water flows/ these cannot be missed)
Right at the mark a
double ring
, cca. 500 meters NW to it other
double walled linear structures
can be seen. (trench/wall system)
I have browsed through all historical maps and descriptions of the area, also have asked some locals, but no clues yet.
However on
homepage
(hungarian) of the settlement editor states that the surrounding area were inhabited for at least a thousand years, 4 mounds (?), also 3 Árpád-age (1000 - 1301 AD) church ruins and numerous middle-age village remains were excavated; not a sign on old maps, not a word about exact location of a mound (kurgan) or any fortification around the site I could find yet.
Now dear archeo-faces of GEC let's gather and say something!
Thanks,
g
*EDIT
:
By this time it is clear that these on screenshot attached are
Bronze-age fortified sites
, parts of a defense network due to protect also main trade routes.
According to a local archeologist, the northern trench/wall system is from the late-, the southern double ring (earthfort) is from the early- or middle bronze-age.
(more details are coming on in thread below)
Modified screenshot for the OP-site: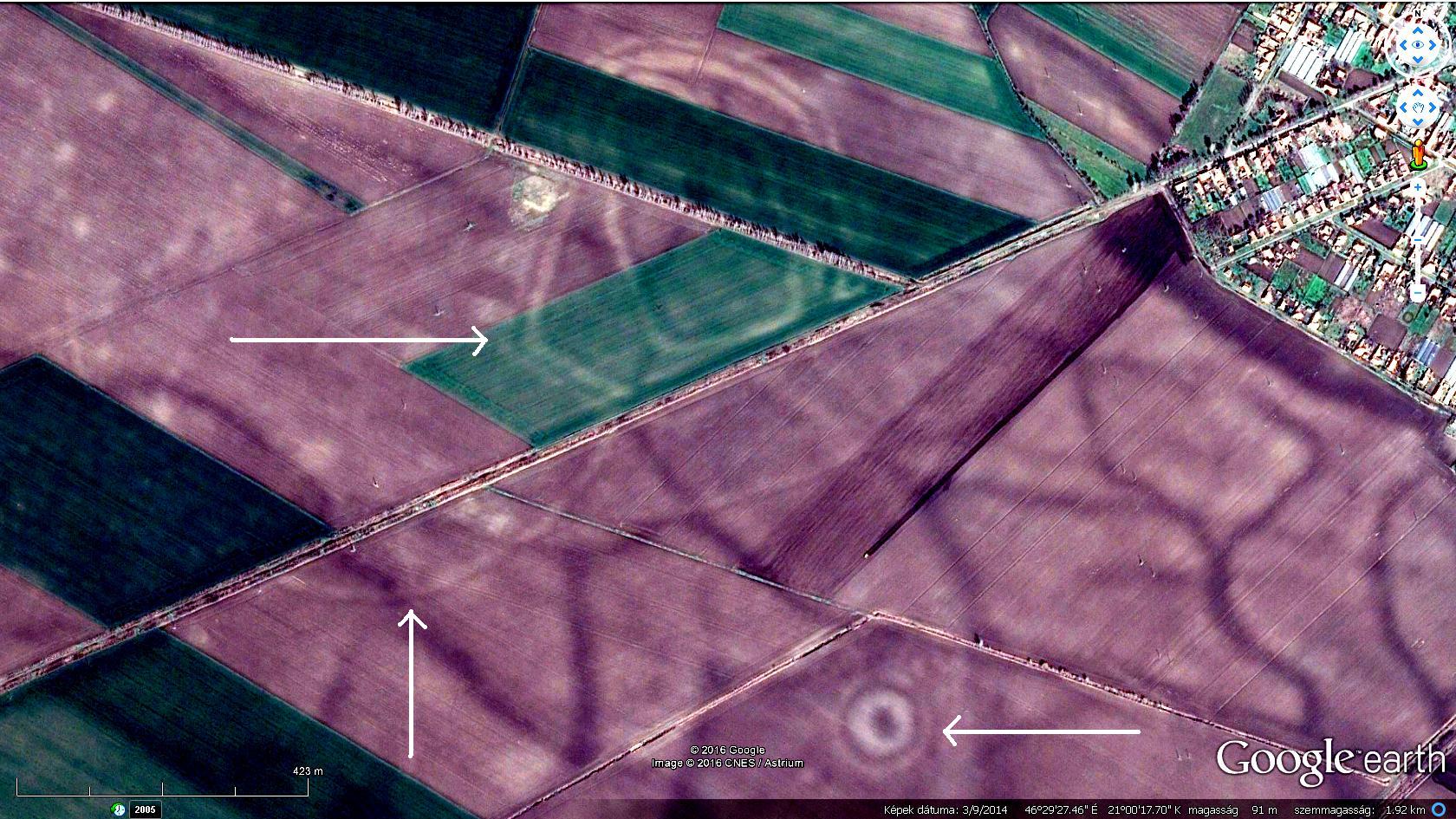 "All in One" kmz file attached:
Aerial archaeology.kmz
(98.12 KB)
Attached kmz file only available here on the every-time "Live" GE Community Forums, which is now self-sponsored.
If You make good use of this dataset, please
donate
our community! Thank You!
***
Related from board
:
all archaeo threads by
archaeo
,
Related from oGEC
: (Pain, all dead links!)
Placemark-thousands
of The Megalithic Portal guide to 25000+ ancient sites worldwide by Andy Megalithic,
Historical Atlas of Eurasia
by RWFG

Art of the steppe nomads
by Villaman
The frozen tombs of the Altai
by Belizarius
North American Archaeology 2013
by deansnow
Some good source
:
megalithica.ru
www.megalithic.co.uk