Post by syzygy on Mar 2, 2018 11:12:04 GMT
And some not that old...
Not long ago I have bumped into an article about these ancient, built structures (older and much more bigger than Stonehenge) and could not calm down until some acceptable kmz attachment done.
Content would also fit my "general"
archaeology collection
, ending I have decided that these deserve their own thread.
Also here need to be mentioned another thread of mine with quite a similar title:
Prehistoric Enclosured Settlements
where I try to locate sites with primary settlement functions and not (only?) cultic/astrometrical artifacts as it stands by these.
Neolithic circular enclosures in Central Europe
Approximately 120–150 Neolithic earthworks enclosures are known in Central Europe. They are called Kreisgrabenanlagen ("circular ditched enclosures") in German, or alternatively as roundels (or "rondels"; German Rondelle; sometimes also "rondeloid", since many are not even approximately circular). They are mostly confined to the Elbe and Danube basins, in modern-day Germany, Austria, Czech Republic, Slovakia, as well as the adjacent parts of Hungary and Poland, in a stretch of Central European land some 800 km (500 mi) across. They date to the first half of the 5th millennium BC; they are associated with the late Linear Pottery culture and its local successors, the Stroke-ornamented ware (Middle Danubian) and Lengyel (Moravian Painted Ware) cultures. The best known and oldest of these Circular Enclosures is the Goseck circle, constructed c. 4900 BC.
Only a few examples approximate a circular form; the majority are only very approximately circular or elliptic. One example at Meisternthal is an exact ellipse with identifiable focal points. The distribution of these structures seems to suggest a spread from the middle Danube (southern Slovakia and western Hungary) towards the west (Lower Austria, Lower Bavaria) along the Danube and to the northwest (Moravia, Bohemia, Saxony-Anhalt) following the Elbe. They precede the comparable circular earthwork or timber enclosures known from Great Britain and Ireland, constructed much later during c. 3000 to 1000 BC (late Neolithic to Bronze Age). But, by contrast to the long lifetime of the "Megalithic" culture, the time window during which the neolithic Roundels were in use is surprisingly narrow, lasting only for about 200–300 years (roughly 49th to 47th centuries BC) /
wikipedia
By every site I try to find proper GE aerial imagery date for best viewing results, add overlay (not only) where it needed.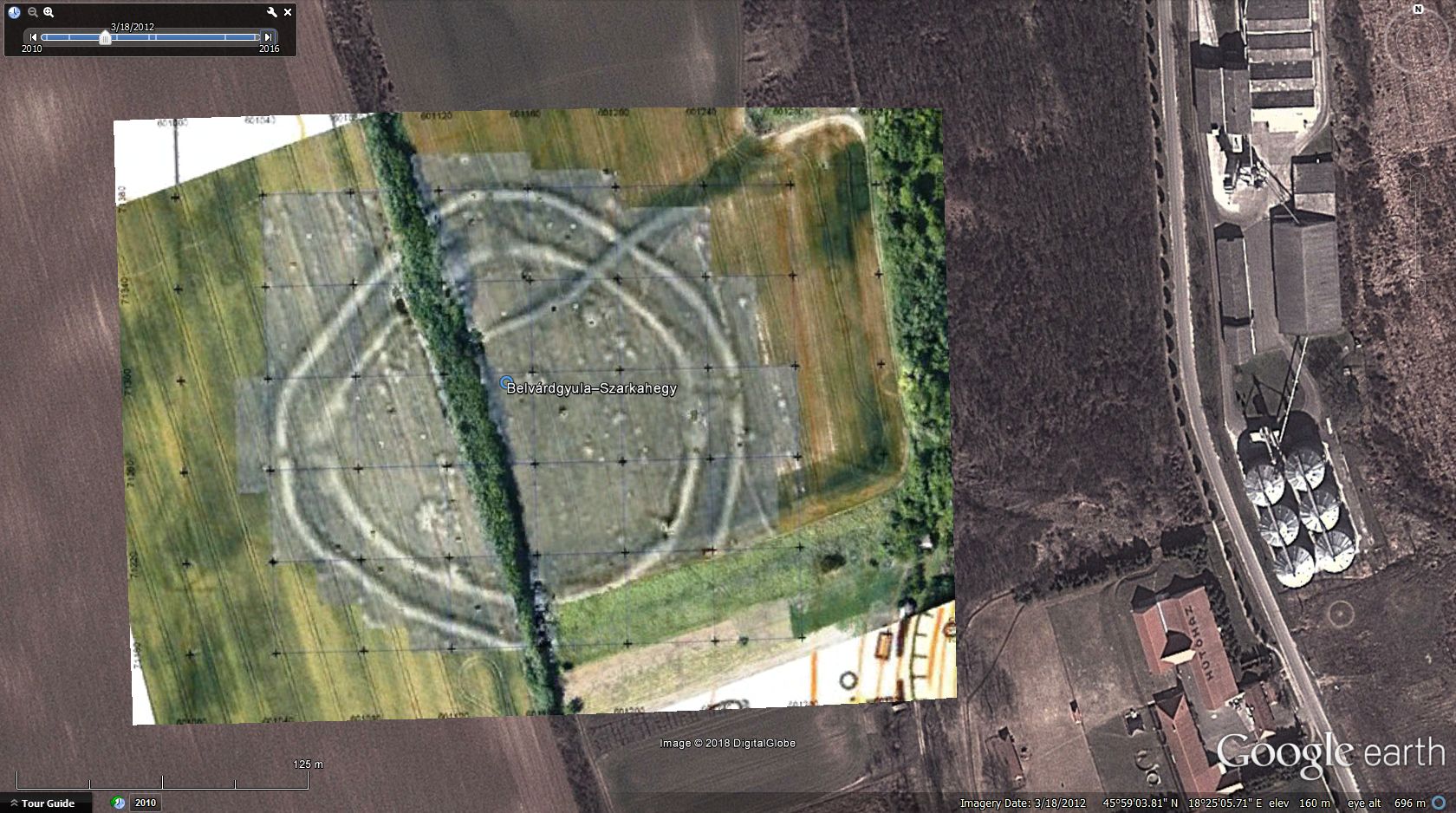 Szemely-I. enclosure, where diameter of the inner circle is about the same as the outer, earthen ring of Stonehenge(!)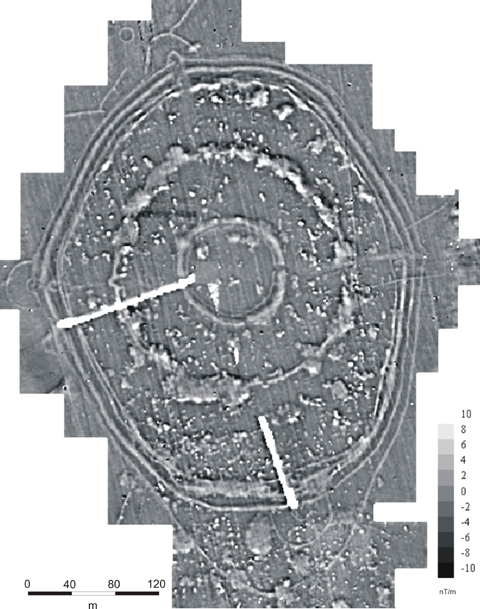 image source
***
By last update
:
166 placemarks
(+5 suspicious sites) and
34 overlays
(off as default) for sites
from 15 countries
in attanced kmz folder.
KMZ download: >>>
Prehistoric Circular Enclosures.kmz
(37.71 KB)
Placemark color legend:

white:

Neolithic Age
orange:

C

halcolithic Age
brown:

Bronze Age
red:

Suspicious Sites
(This latter three counts only a few marks and shall be excluded anytime.)
Attached kmz file only available here on the every-time "Live" GE Community Forums, which is now self-sponsored.
If You make good use of this dataset, please
donate
our community! Thank You!
***
(some of my)
sources:
fejerszovetseg.blogspot.hu
//
files.archaeolingua.hu (PDF)
//
magyarostortenet.gportal.hu
//
oldwww.mageof.hu (PDF)
//
researchgate.net
//
astrosim
//
writeopinions.com
//
de.wikipedia
//
iaepan.vot.pl (PDF)
(Good (hungarian language) read on subject and more:
Határtalan Régészet 2018/IV _.PDF
Any further info on these or on other sites, generally all related contributions welcome!
Thanks!
g
Note for latest edit: 3 more sites from Czechia and 1 plus from Poland added by 2018.nov.27.
______________________________________________________________________________________
Related from board
:
Prehistoric Enclosured Settlements
Ancient Saudi Stone Structures
My archaeology collection
Mounds of (the) Earth
all archaeo threads by
archaeo
,
Related from oGEC
:
Placemark-thousands
of The Megalithic Portal guide to 25000+ ancient sites worldwide by Andy Megalithic,
Neolithic sites in Arabia and East Africa
by KenGrok
Neolithic Monuments of the Sahara
by KenGrok
Historical Atlas of Eurasia
by RWFG

Art of the steppe nomads
by Villaman
The frozen tombs of the Altai
by Belizarius
North American Archaeology 2013
by deansnow