Post by syzygy on Jun 4, 2020 9:04:10 GMT
"Hungarians are for whom Trianon hurts."
100 years ago there was a country in the ring of the Carpathian mountains, called
Kingdom of Hungary
. For a thousand years it was
bastillon of the so called Western Christianity
- while this latter could quite peacefully develop, Hungary suffered multiple, severe attacks from the East. After each invasion of Tatar, Mongol and Ottoman forces, 60-70% of rural inhabitants were vainsed. The vast, barren fields have had to be resettled so various kinds of ethnicities were introduced time to time. Iasi,
Cumanians
, Slovaks, Romanians, Saxons and Serbs (masses of these drifted inside with the Ottoman flood) only to mention the most numerous ones. How strange, all this served basic ideology for the carving up of Hungary in 1920...
After the fall of Constantinople (1453), Ottoman rule could not be stopped anymore. It flooded the Balkans and some 70 years later it stopped on the hungarian plains after Hungary have lost the battle of Mohács (1526). Ever since Hungary never could catch up with western Europe, but always been bound to the "helping hand" of the Habsburgs, that always meant exploitation and betrayal. The
Hungarian War of Independence
were suppressed by Russian help and all
the leaders have been executed
. (Many of them were not ethnic hungarians, but of Serbian, Croatian, German, Armenian and Austrian ancestry(!))
After Austro-Hungarian compromise of 1867 there were no more real power or self-determination for the "monarchised" Hungary - it become a "pasture" of the Habsburg Eagle.
In the eve of WW.I. (after all necessary "secret agreements" were signed by France, Russia, Serbia and Romania) the dance could have started: On russian money, serbian assasins killed the habsburg archduke Franz Ferdinand and his wife after which Austria-Hungary (mean the habsburg Kaiser himself) declared war on Serbia.
All the following events are well known: the war lost, punishment had to be done. And it has been done - an
unprecedented level of punishment
for a country, that had nothing to do with the war. 2/3 part of the territory were annexed to neighboring, new-states with
3,5 million ethnic hungarians
. Even Austria gained smaller parts. (...)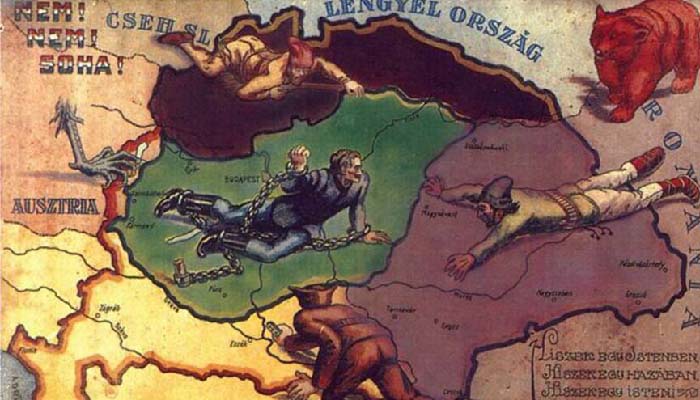 Contemporary poster with the slogans: "No, no, never!" and the "Hungarian Credo".
So that was the payment "western christianity" thought to award Hungary with for the 1000 years of protection again- and probably thought for the last time...
Democratic ballots were promised about annexes, but were held only at the Austrian border, where results were no question. (By one exception: Sopron -
Civitas fidelissima
- voted for Hungary.)
All main
natural resources
have been cut off with the mountains,
cultural cohesion
and deep family bounds were torn apart. From one day to the other, millions of hungarian people found themselves in minority, in the most hostile environments of our neighbouring, new countries. Forced resettlements, the stigma of collective-guilt, prohibited language and culture,
mass killings
were up for them in the forthcoming century.
...
In 1992, when I was 14 years old, we were on a school trip to Slovakia. In Besztercebánya (Banská Bystrica) we have stopped to buy some food and drink. With 5-6 other schoolmates (12-14 years old children!) we were about to pay at the casse when the cashier madame suddenly took our baskets and has kicked us out of the store shouting:
"Go home shopping, stupid hungarians!"
That was my first such experience in one of the neighbour countries, but sad it was not the last... It happened in 1992, so no doubt, what could happen to hungarian minority in these countries e.g. in 1942 or 1922...
...
Historical Hungary was the cradle of quite a peaceful (and everytime useful) multiethnicity, a forge of different cultures and the first country in the World where freedom of religion were declared. (Edict of Torda is considered as the first legal guarantee of religious freedom in Christian Europe. Also one can check the
story of Bözödújfalu
for a deeper understanding.)
After the mindless and totally unjust act* of the Trianon Treaty, this 1000 years old unity has broken up into several pieces with significant "new" minorities of hungarians within, and the seed of ethnic and national conflicts were planted for ever.
(*Wilson refused to sign it and the treaty has never been ratificated by the USA ever since.)
Only mutual understanding of the historical facts and new common goals could lead to some reconciliation in the region, however grief and despair will never extinct from the hearts of hungarian people, and after another 100 years, our grandsons shall continue spelling the Hungarian Credo:
I believe in a God,
I believe in a Homeland,
I believe in a divine, eternal justice;
I believe in the resurrection of Hungary!
Let us remember on this mournful day; still we belong together in here
and beyond
the Carpathian Basin!
3 random memorials' sites attached:
Trianon - cursed for a hundred years.kmz
(1.58 KB)
Recommended read in english:
The Tragic Fate of Hungary: A Country Carved-up Alive at Trianon -
Book by Yves de Daruvar (PDF)