Post by syzygy on Feb 27, 2020 12:55:02 GMT
For a long time I have stalled to do this task, but now wrong links in citations and blurred, watermarked Photobucket images fixed in this placemark collection for Hungarian Regional Embroideries. Here you are:
"Embroidery is one of the richest, most diverse branches of Hungarian ornamental folk art, and is extremely varied within a relatively small area."
- as one can read in initial rows of a basic literature on subject. Attached kmz file was made to be map in the hands of the inquirer for this maze of ornaments, using sample needlework set I have found on the Web.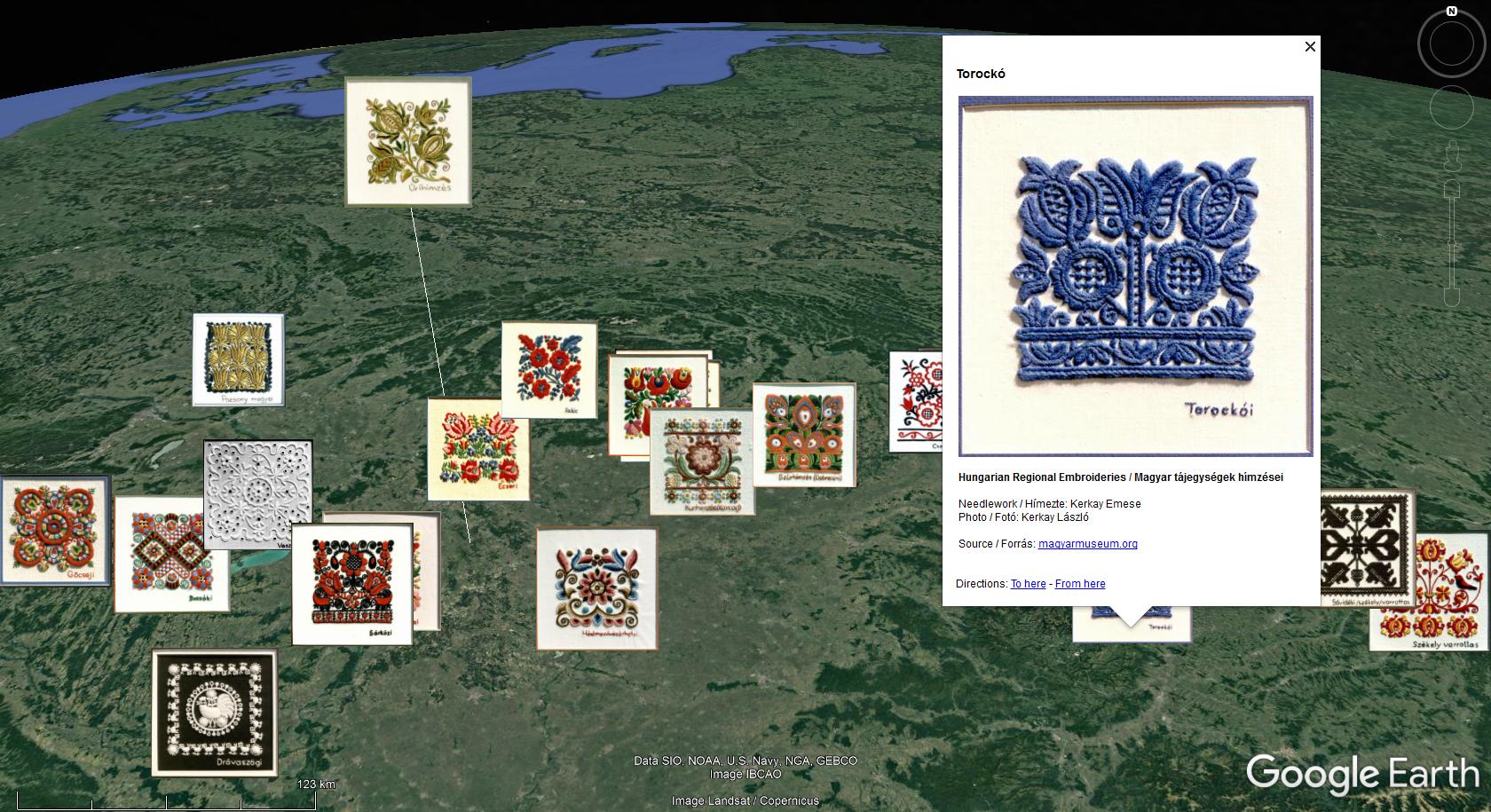 Before download to start your trip on this colorful journey, you might would like to know some about usage.
"Both ceremonial and plain pieces for everyday use were embroidered. That is why needlework has a great role, primarily on the visible parts of various folk costumes. The same can be said of pillow ends (párnavég), which are placed on the end of the pillow facing outwards on the bed, their ornament outwards, as well as of the various kerchiefs, covers, tablecloths, and towels, so that the embroidered flowers may please not only the family but visitors as well. However, no matter how ornate these objects are, they all have some kind of a definite function."
#
Source:
Balassa-Ortutay - Hungarian Ethnography and Folklore (1979) /
Embroideries
#
KMZ download: >>>
Hungarian Regional Embroideries.kmz
(5.47 KB)
Probably you will choose an other one, but I like the embroidery of my hometown the most:
Sad, that generation of my grandmother was the last who made such beautiful home-furnishing by tradition, still I have to call a lucky guy myself as my wife's grandmother was really a master, so we and the whole family are surrounded with many brilliant pieces at home. (
An example
is hidden around already, later I plan to share a photo selection of my special favorites here in this thread.)
***
Many thanks for the beautiful samples and great photography:
Hungarian Regional Embroideries / Magyar tájegységek hímzései
Needleworks / Hímezte:
Kerkay Emese
Photos / Fotó:
Kerkay László
Source / Forrás:
magyarmuseum.org
***
Related from board:
Hungarians Swept Abroad
Borders of Historical Hungary
Rivers in the Carpathian Basin
Attached kmz file only available here on the every-time "Live" GE Community Forums, which is now self-sponsored.
If You make good use of this dataset, please
donate
our community! Thank You!