Post by syzygy on May 31, 2021 14:41:35 GMT
Basics:
A cell site, cell tower, or cellular base station
is a cellular-enabled mobile device site where antennas and electronic communications equipment are placed—typically on a radio mast, tower, or other raised structure—to create a cell (or adjacent cells) in a cellular network. The raised structure typically supports antenna and one or more sets of transmitter/receivers transceivers, digital signal processors, control electronics, a GPS receiver for timing (for CDMA2000/IS-95 or GSM systems), primary and backup electrical power sources, and sheltering.
In Global System for Mobile Communications (GSM) networks, the correct term is Base Transceiver Station (BTS), and colloquial synonyms are "mobile phone mast" or "base station". Multiple cellular providers often save money by mounting their antennas on a common shared mast; since separate systems use different frequencies, antennas can be located close together without interfering with each other. Some provider companies operate multiple cellular networks and similarly use colocated base stations for two or more cellular networks, (CDMA2000 or GSM, for example).
Some cities require that cell sites be inconspicuous; they can be blended with the surrounding area or mounted on buildings or advertising towers.
Preserved treescapes can often hide cell towers inside an artificial or preserved tree. These installations are generally referred to as concealed cell sites or stealth cell sites
.
...
en.wikipedia.org/wiki/Cell_site
Not long ago I have read an article where two photos of such disguised saguaros sites has raised my attention enough to look them up on GE. At first I have not succeeded with those, but have found another, that I immediately have
shared on F&G
, making it a (not so popular) puzzle. ( :
Since then I have
collected 10 sites
(all with source), where such kind of fake cacti are visible on GE/GM StreetView imagery. (Double click on each placemark to enter SV.)
Cell tower saguaros.kmz
(2.44 KB)
Example site: (missing from placemark collection so far)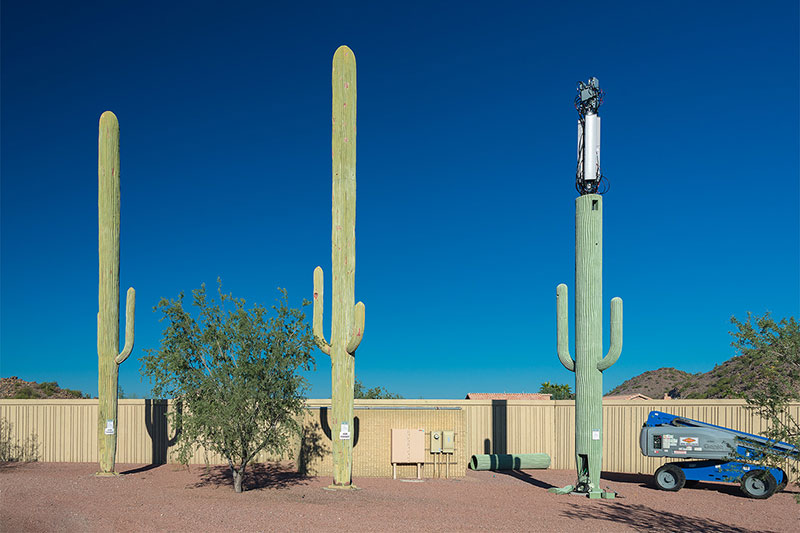 The three saguaros © Annette LeMay Burke
- source:
Twisted Sifter
My other sources were:
Placemark references:
www.celltowerphotos.com/thumbnails.php?album=3&page=4
joeorman.shutterace.com/Bizarre/Bizarre_Saguaro.html
factcheck.afp.com/photo-antenna-fake-cactus-taken-almost-decade-5g-technology
www.waymarking.com/waymarks/WMKTW8_North_Power_Road_Saguaro_Cell_Tower
www.waymarking.com/waymarks/WMPQNK_Usery_Mountain_Regional_Park_Saguaro_Cell_Tower_Mesa_Arizona
www.waymarking.com/waymarks/WMPRJT_110th_Street_Cell_Tower_Carefree_Arizona
www.waymarking.com/waymarks/WMNXV5_Rio_Verde_Road_Cell_Tower_Rio_Verde_Arizona
www.waymarking.com/waymarks/WMKMYW_Cactus_Disguised_Cell_Tower
Ending, an essential page I have found for the last
www.antennasearch.com/
All other spottings are welcome here in this thread!