Post by diane9247 on Dec 4, 2020 8:58:56 GMT
This post is dedicated to the memory of The Ledge (Steve), the founder of this forum, who passed in late November.

The
Arecibo Observatory
in Puerto Rico collapsed on December 1st, after a painfully gradual decline. It seems that maintenance has not been good for 10-15 years, and rust is the primary enemy of cables. One cable broke in August and engineers scrambled to find out whether repair was possible. Then, a second one broke on Nov.19th. By this time it was obviously too dangerous to try repairing the massive structure. Scientists on the site, who stay near the big dish, were shocked, some said they were in tears. Astronomy and astrophysics students from around the world and especially the Puerto Rican ones, are heartbroken.
After the first break, August 10, 2020.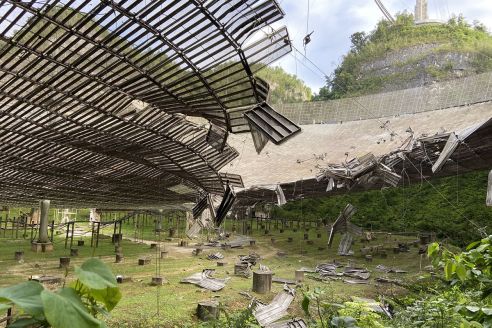 From the AO website, linked at the bottom of my post.
[Génesis Ferrer, a] fourth-year physics student from the University of Puerto Rico, Río Piedras campus, had recently earned a fellowship from the Puerto Rico NASA Space Consortium to study emissions from red dwarf stars using the giant radio telescope in Arecibo. Because of coronavirus restrictions, Ferrer has been accessing the data she needs from the Arecibo Observatory remotely, hoping she would soon be able to finish her investigation in the place where it all started.
...
"I was very sad, very disappointed," Ferrer told NBC News. "I worked so hard to finally get accepted to work in the Arecibo Observatory. And now that I got accepted, I can't work in it. I felt very sad, not only individually, but I also saw it as a very sad thing for Puerto Rico and the science in Puerto Rico." [
Source
]
The final collapse came violently and quickly, as seen in this video from the observation tower and followed by drone footage:
I suggest you view it full screen on Youtube.
The Arecibo Observatory was the largest radio telescope in the world and a point of pride for Puerto Ricans, whether they were in science or not. About 90,000 islanders and tourists visited the observatory every year, a boon to the region.
During its almost 57 years in operation, the observatory built with money from the U.S. Department of Defense has been at the forefront of space research — and a crucial training ground for space science students. [
Source
]
See more information about the Observatory's operations and history at the
AO website
and on
ArsTechnica
. The latter site has a very interesting response by
mmorales
, expert in designing and building telescopes.
Aricebo Observitory.kmz
(743 B)