Post by siggi on Mar 29, 2020 9:59:09 GMT
The Westafrican crocodile (Crocodylus suchus) is one of four species of crocodile found on the African continent. Apart from the Nile crocodile, its closest relative, it is the only species that inhabits semi-arid and arid zones of the Sahel and the Sahara. While widespread in the Sahara region during its wetter phase (between 12,000 to 4,000 BC) it has now disappeared in most places outside the large river systems Senegal, Niger, and Lake Chad and Nile.
In the past ten years there have been at least two research projects looking into finding and documenting the last remaining locations where the species has still survived. The following map is taken from the research of Brito et. al (2011). As you can see, Mauritania is host of almost all remaining desert crocodiles with a single confirmed location in northern Chad. The red dots in southern Morocco and Algeria have lost their last crocodiles in the last century.
Living in such harsh conditions crocodiles use
aestivation
, a sort of hibernation through the hot and dry season in order to survive. For this, the they use burrows and spaces between boulders and onl come out when the rains return.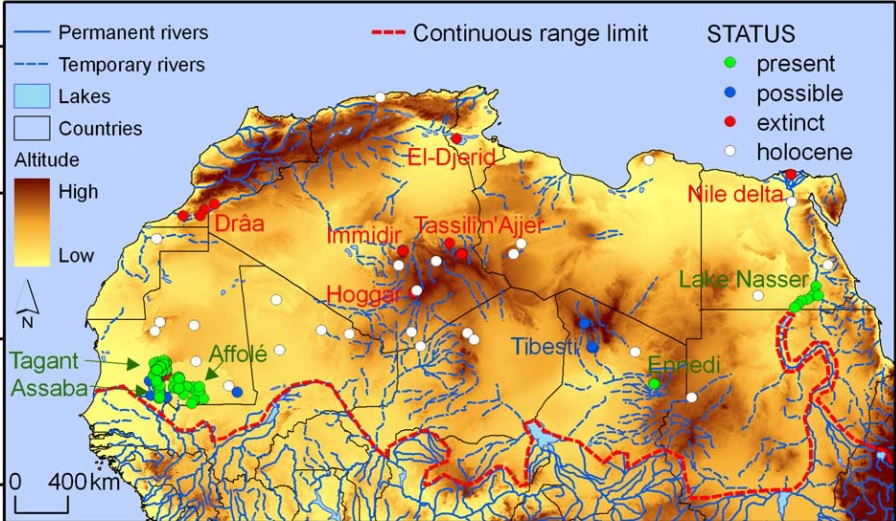 The two research papers are:
Crocodiles in the Sahara Desert: An Update of Distribution, Habitats and Population Status for Conservation Planning in Mauritania (2011)

by José C. Brito, Fernando Martínez-Freiría, Pablo Sierra, Neftalí Sillero, Pedro Tarroso
Update of distribution, habitats, population size, and threat factors for the West African crocodile in Mauritania (2016)

João Carlos Campos, Fernando Martínez-Freiría, Fábio Vieira Sousa, Frederico Santarém, José Carlos Brito
The following placemark collection was done using the annex of the 2011 research which provides the geolocation of each site (see Word attachment). The additional new locations that the second paper identifies could only be marked using a map inside the publication as an overlay in GE. As this is not 100% precise there may be minor differences in the placemark.

Methodology of Sorting the Locations

"The status of crocodile populations at each locality was categorised as:
1) present, when crocodiles were observed during field expeditions or when faeces, foot-prints or burrows were found; and
2) possible, when locals reported the presence of crocodiles in apparently suitable habitats but no individuals or signs were observed."
Geographical terms used in the placemark collection

Oueds (rivers)
Gueltas (mountain rock pools)
Tâmoûrts (seasonal floodplains at the foothills of mountains).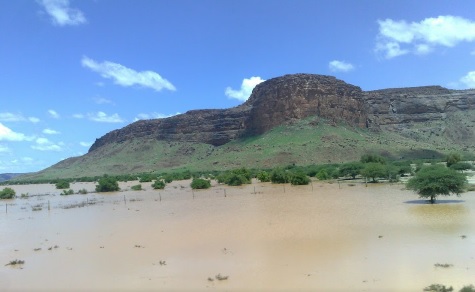 -------------------
Use Bing satellite overlay, as it has a much better resolution in most of Mauritania.
Use the photo overlay and look at some of the places. Gueltas are beautiful (check out the Guelta d'Archei)