Post by frankmcvey on Mar 27, 2015 20:04:39 GMT
The West Highland Way.kmz
(151.6 KB)
The West Highland Way


The West Highland Way was the first officially-sanctioned Long Distance Route in Scotland. It had been in gestation since it was first proposed in the 1960s, and was finally opened after many funding proposals, land-access negotiations and much route preparation in 1980. Since then it has developed into the most popular walking route in Scotland, attracting over 100,000 walkers each year.
It is easy to see why it is popular: it is accessible, fairly easy going (although there are one or two wee grunts on the Way), and has numerous stopping or breakpoints on the way. There is good accommodation along the Way, be it B & B, Hotel, Youth Hostel, or camping. There is a pub at each major breakpoint.
It encompasses virtually every type of scenery Scotland has to offer from the northern suburbs of Glasgow: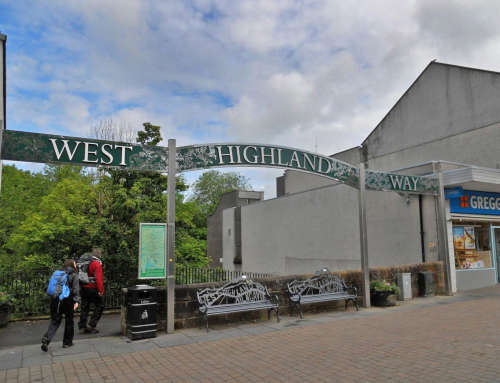 through the rolling agricultural land of the Central Belt: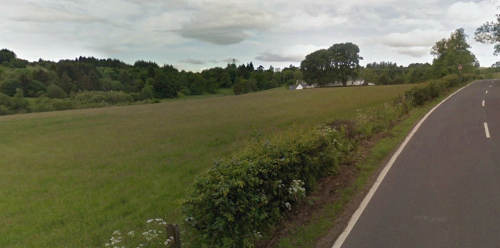 past the beautiful and romantic Loch Lomond: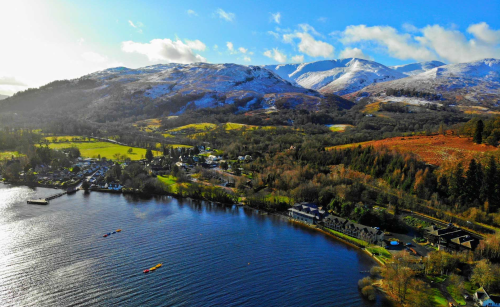 through deep gloomy pine forests, over the wild and desolate Rannoch Moor: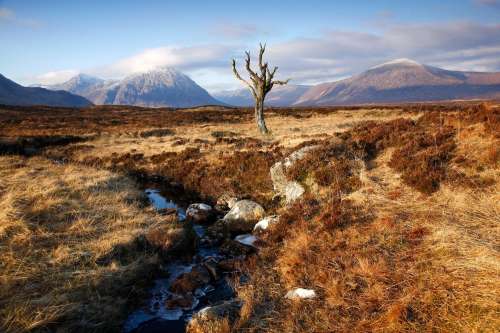 Image courtesy Martin Lawrence Photography
across the mighty pass of Glencoe, where the gruesome past seems to cast a chill on the sunniest day: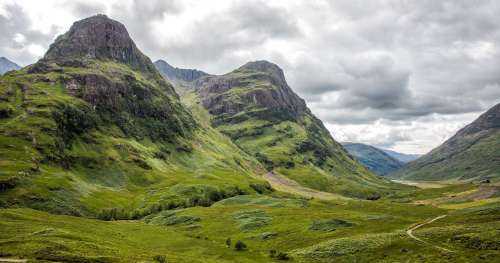 up the steep grunt at the Devil's Staircase, (that's the WHW snaking its way up the Staircase on the hill above the King's House and disappearing off towards Kinlochleven):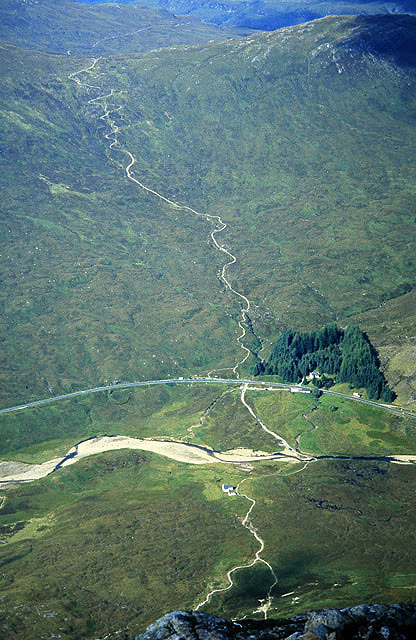 the back down to the sea coast at Kinlochleven, then following the Old Military Road road along Lairigmor, built by General Wade's soldiers to pacify the Highland Clans after the '45 Rebellion,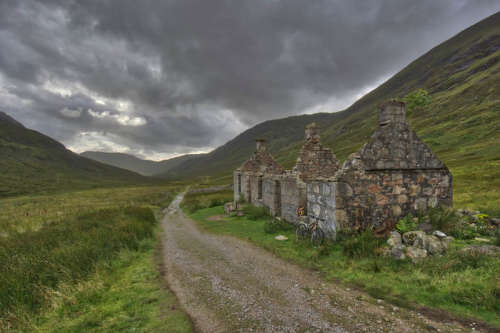 to Fort William, the town which sprang up around the garrisoned fort built by Cromwell's forces in 1654 along with its sister garrisons, Fort Augustus and Fort George, for the same purpose.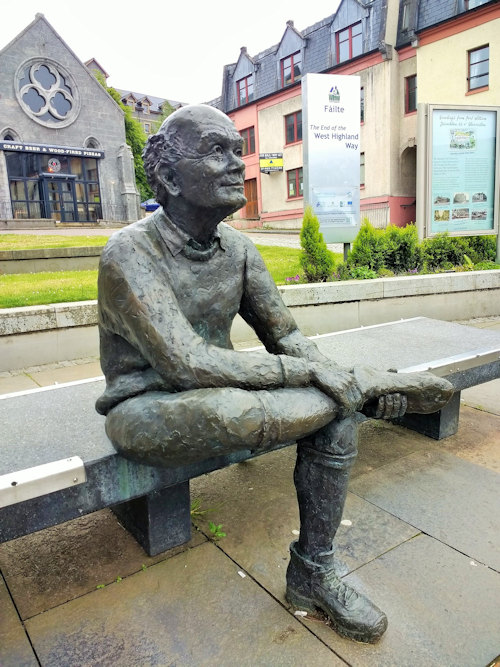 Statue at the end of the West Highland Way, depicting a footsore rambler, at the end of his long walk!


There are many ways of tackling the Way. If you live close by and can't spare the time to do the whole Way in one go, you can break it down into sections, then spend a day each weekend on each section until, over the course of a couple of months, you have completed all of it. Alternatively, you can do a section each day, and have a good, leisurely walk over a couple of weeks Or, for the younger and fitter, you can take in a couple of sections at a time and easily do it in 5 days or so. Or you can be a complete nutter, like Paul Giblin, and run the 95 miles in 15 hours (Paul is the current men's record-holder).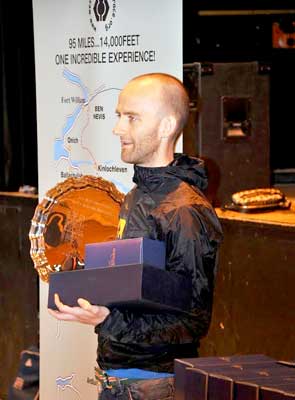 Paul Giblin, photo by David Hall
You can carry your home, bed, fire and grocery store on your back and go wild camping, you can camp in the more organised campsites where you may find a shop and a shower; you can, for about £35 for the week, get a baggage carrier to hump your rucksack for you to your next stopping point so all you need is your camera and a day bag. If you don't fancy carrying a tent and stove, you can stay at the Youth Hostels along the way. If you want a bit more luxury and someone else to cook your breakfast, you can stay in B & B accommodation, or, if your budget runs to it, in some of the excellent hotels.
Naturally, you can walk the Way from either south-north or north-south. The first is traditional and the most popular; you start off with relatively short easy sections, and build yourself up for the longer, more-demanding sections later.
When to go? Admittedly you can get some nice clear sharp spells in the winter and the Way is almost deserted - you'll pretty much have it to yourself. However, many of the shops and B & Bs may be closed, and you're statistically much more likely to get grey rainy days and winds than still, frosty ones. In July and August the going can be hot and humid, and the schools are on holiday, so the Way can be pretty crowded, and the dreaded Highland midges are at their worst; camping at this time of year on a still, overcast evening by the loch-side can be a misery, particularly if you have an allergy. A good midge repellent such as Smidge, is essential. May and June can be the best months if you have a decent spell of weather, as can September and October.
Is it easy to navigate? Yes. the route is well-signed and 100,000s of feet have left a track that's fairly easy to follow, usually, unless it's covered by snow. However, only a fool would venture out on the hills and moors, particularly in winter, without a map, compass and the ability to use them. And don't rely on your mobile phone to get you out of trouble - many areas on the Way don't have good coverage. Make a plan for the day, tell someone (who isn't on your party!) about it and then try to stick to it. Then check in with them at the end of the day, so they don't call out the Mountain Rescue guys unnecessarily.
Am I fit enough to do it? Well, only you can answer that! Most of the WHW is is over fairly benign terrain and it's pretty easy walking if you're fairly lightly laden; walking poles will help and and sensible walking shoes/boots are a must. One thing is certain - it'll give you a real sense of achievement and an experience you'll never forget.