Post by diane9247 on Nov 13, 2019 8:32:11 GMT
The grave of
Robin Gibb
and a memorial stone for
Andy Gibb
are at the St. Mary Cathedral Cemetery at Thame, Oxfordshire, UK. Robin was one of the three
Bee Gees
, chart-topping and award-winning pop stars of the 1970s. The youngest, Andy, sang with them on occasion, but had an independent career in California. They broke up in the '80s to pursue independent projects, then re-joined and had a successful comeback in the 1990s. The Bee Gees' mega-hits included the still hugely popular soundtrack for the movie
Saturday Night Fever
. The Gibb brothers were born on the Isle of Mann in the UK and the family moved to Australia when the children were young. According to
Barry
in an
interview
with Larry King, it was because the brothers had become "criminals," stealing and fighting. They moved back to the UK when their musician father saw they were talented enough to develop a singing career.
The family was devastated by the early death of the youngest son, then the loss of two more at relatively young ages. The last home of Robin and his wife Dwina, can be seen from the grave and is also placemarked. All information is from Wikipedia pages for the Bee Gees and the individual brothers, linked in the first paragraph.
Andy
died in 1988 just a few days after his 30th birthday. The cause of death was myocarditis, a viral inflammation of the heart. There is a memorial stone at the St. Mary Cemetery, but his remains are buried in Los Angeles, California.
Maurice
died unexpectedly in 2002 of a heart attack while awaiting emergency surgery for a strangulated intestine . He was buried in Miami, Florida, where he had lived with his family. He was 53.
Robin
died in 2012 of liver (some reports say colon) cancer, which had been diagnosed the year before and he had kept a secret. He was 62 years old.

From left: Barry, Robin, Maurice, Andy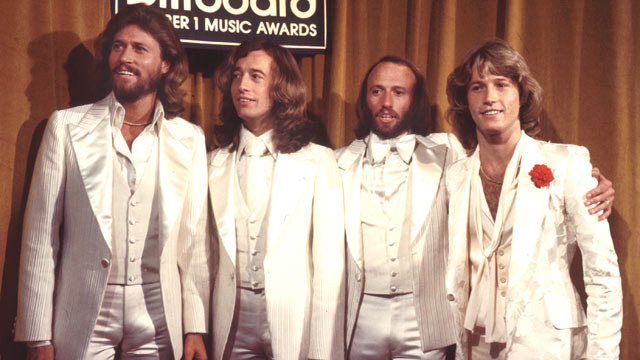 Barry, the oldest Gibb brother, continues with an occasional solo performance and other pursuits in the music business.
There is now a permanent
headstone
at Robin's grave.
A folder with placemarks for two Gibb graves and Robin Gibb's last home. Click on placemarks to see on Street View.
Graves of Andy and Robin Gibb.kmz
(1.36 KB)