Post by syzygy on May 22, 2017 9:23:21 GMT
Why not to make forestry a bit more exciting activity than a simple industrial process? Forester can insert texts -and any other pattern by the way- with 3 different methods.
1.: single plantation or outcrop (positive text), 2.: cut-out (negative text), 3.: different species (canopy color/structure differences make text visible), also combinations of these can be exist.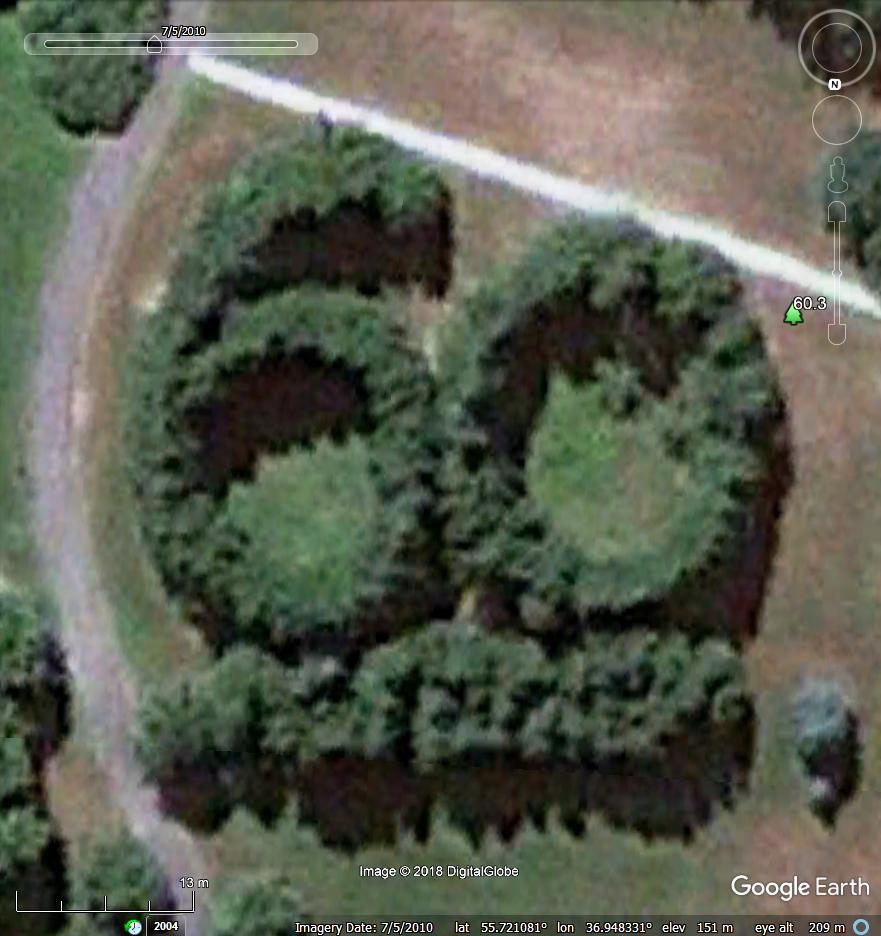 .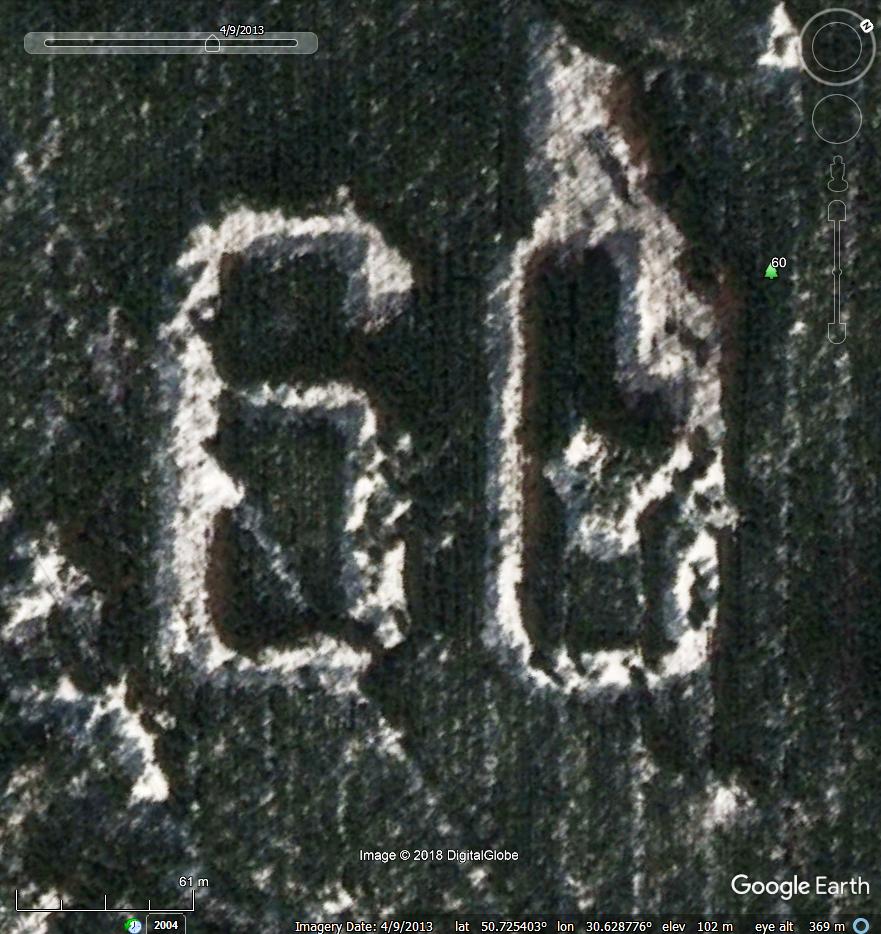 .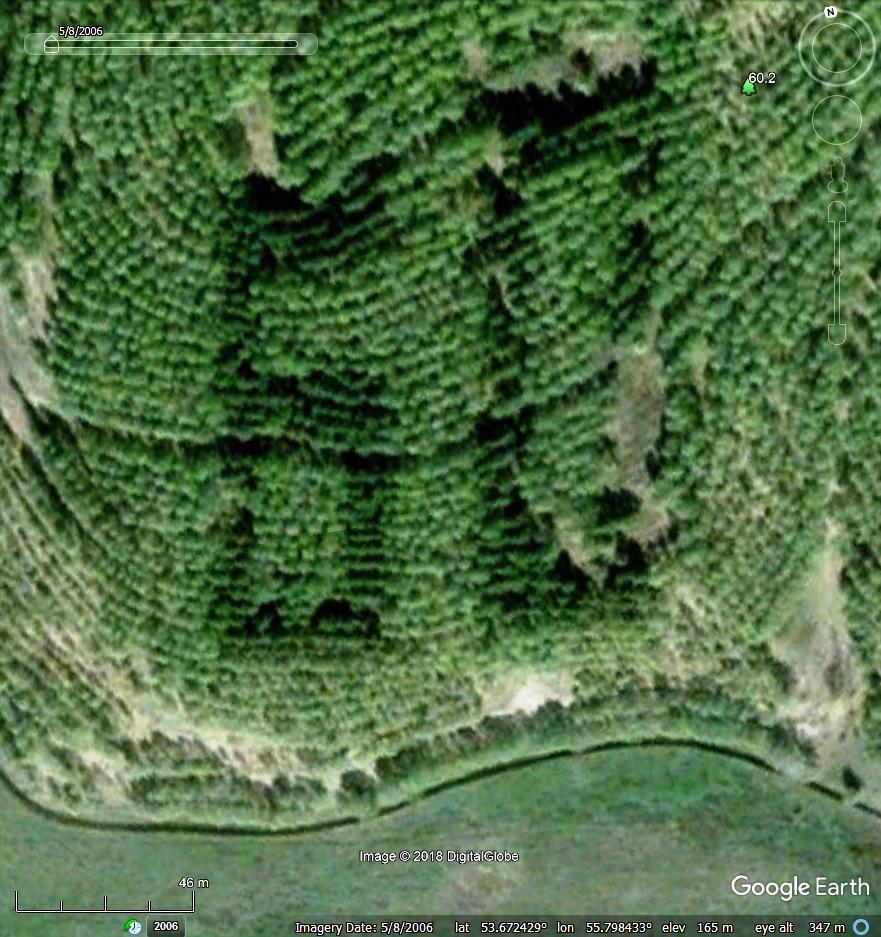 Examples from Russia and Ukraine, primary collected by DjDeeeeeen (oGEC):
Nice text "LENIN" example for this latter type from Belarus, I have read about on the web: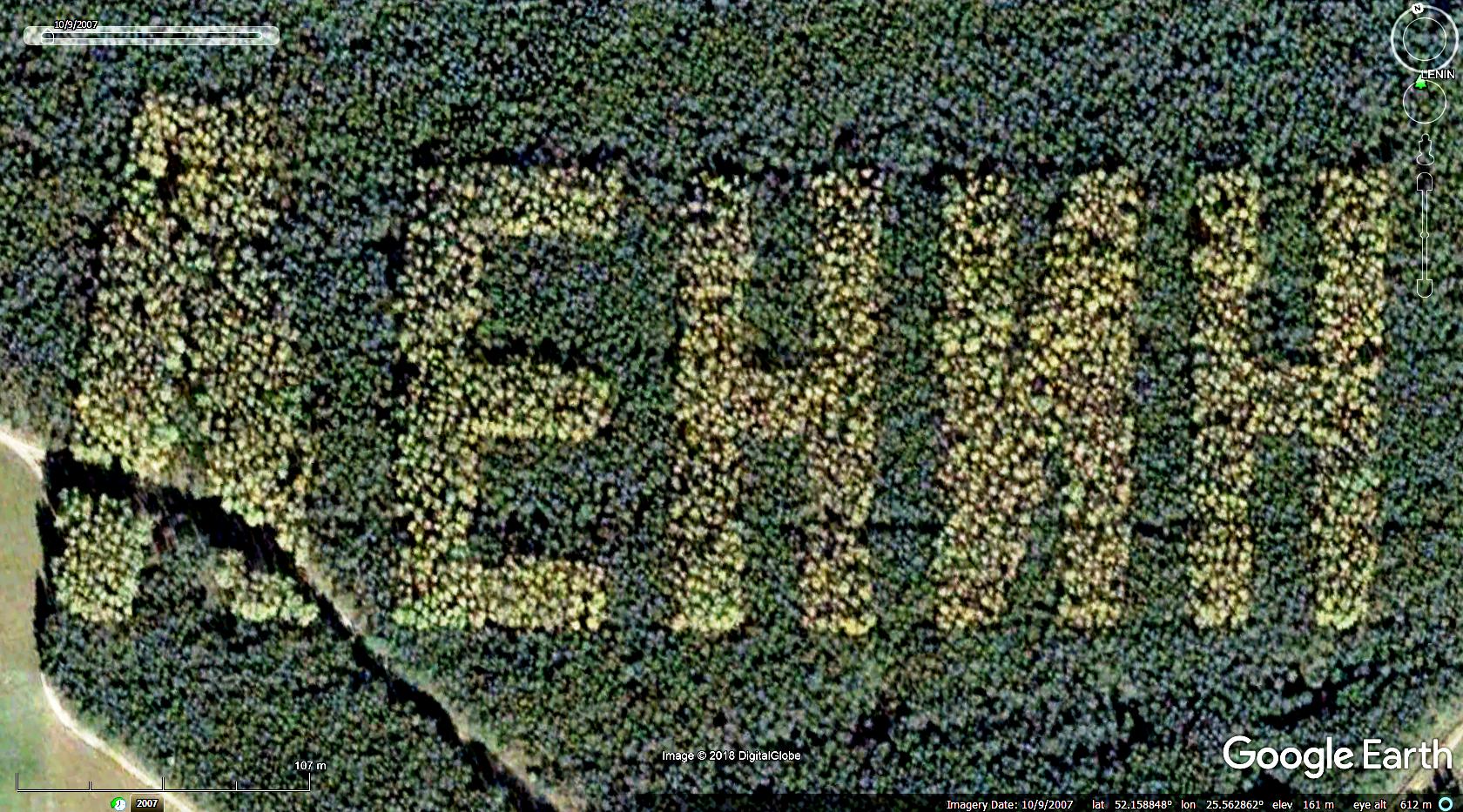 This is my first own find: number '2000' made of a plantation of other kind of trees than the surrounding forest-species, somewhere in Ukraine. (as an example for a mixed solution.)
Since, I have managed to spot further 3 by myself and several other locations provided by different sources, so have decided to put all together, with all references given of course.
Lot of these collected so far are Soviet slogans from former states of the USSR and Yugoslavia, but any other scenes and purposes are possible, as one can see following thread below!
Any additions are welcome!
Thanks!
g
Recent stage of updates:
79 placemarks
(+1 overlay) in folder:
Message of the Forester.kmz
(13.91 KB)
Attached kmz file only available here on the every-time "Live" GE Community Forums, which is now self-sponsored.
If You make good use of this dataset, please
donate
our community! Thank You!
Content legend:
9 locations I have spotted myself (Two latest are next to willi1's "Lenin2" marker - a "Pobjede 60" and another that cannot be read anymore)
7 more from Russia, Ukraine and Belarus found on the web: #1
telegraph.co.uk
, #2
englishrussia.com
2 TITO
signs
plantations from the territory of former Yugoslavia (Serbia, Bosnia and Herzegovina)
by Serlin (oGEC)
and
by Cancar (oGEC)
19 more "Soviet slogan" sites from Ukraine and Russia
by DjDeeeeeen (oGEC)
1 SOS sign made out of oil palm trees, Indonesia (found on the web)
1 Italy-shape plantation, Italy (credit: berenit (oGEC) and
krenek
(nGEC) who raised my attention)
2 religious symbols - Celtic Cross and Trinity Knot - from Ireland (found on the web)
8 +1 more locations /DVX - Italy, LUECKE - USA, Guitar shaped ranch - Argentina, Misterious chinese characters - China, JPII - Poland, E II R - UK, 1989 - France, Giant necklace - China, Experimental Forestry - Japan / (from various sources)
1 Tito signature - Montenegro (by
hhgygy
)
3 more from different corners of the World: Iron Cross - UK, PAX - Hungary, Giant QR Code - China (by
hhgygy
)
1 historical Hungary shape plantation - Hungary (a friend mentioned, I have found
source
/hungarian/)
4 more (1 historical) from various times and by various occasions: Olympic Circles - Hungary, мир - Ukraine, "E" - Slovakia (source (hungarian):
index.hu/urbanista
, B-52 shape clearcut installation by Rosie Leventon (2004) - UK (sources:
rosieleventon.com
//
saatchiart.com
)
3 more: one more "E R" from the UK (not best GE imagery, but great
aerial photo by AEROENGLAND
), "well GEC layered" Shape of a Heart and
background story
still from the UK, and the also well known "STUDEBAKER" from the USA
2 additions by
krenek
: 1 from the UK: "Jesus: I am the..." text made of trees / source:
virtualglobetrotting.com
, and a Mickey Mouse shape forest from the USA / source:
virtualglobetrotting.com
1 more plane from Puerto Rico presented by
willi1
3 more Lenin plantations fom Russia by
willi1
1 bomb target practice cross from Suffolk, UK / source:
dailymail.co.uk
1 more floral pattern from China by
willi1
1 Heart from the USA by
willi1
2 pieces; a 488 meters long beef bill from Uruguay and The Green Cathedral from Holland by
CuriousJM
"300" from Ragley Park ( Alcester, Warwickshire, UK) by
willi1
Treeface from Denmark by
willi1
"Mamatai-98" by
willi1
"Lenin 1870-1970", Russia by
willi1
"willi1's spider" from France by
willi1
"N", star and the shape of Minnesota by
willi1
Shark off the scrub, the 1st piece from Australia - first spotting credit: Jeff Emmerton aka
jemmerton
(oGEC-2006)
All credit to sources will be given with links also in attached placemarks' descriptions.