Post by Hill on Apr 9, 2015 4:29:29 GMT
Galaxy Zoo
is a citizen astronomy activity that allows anyone interested to help scientists categorize galaxy types and other objects in deep space. People are much better categorizing than any automated computer program could be. It this way it works in the same way as
Google image labeler
, but with a much more specialized set of images. Since there are millions of galaxies, the astronomers need help.
This is where Dutch schoolteacher Hanny van Arkel enters the picture, She discovered the strange green "voorwerp" (Dutch for "object") in 2007 while browsing through the Galaxy Zoo project. She reported her find to the Galaxy Zoo Forum here and it attracted lots of attention.
Once the "usual" explanation that it was in imagery flaw was discounted, an explanation of what it is began to emerge.
Here's a discussion
from shortly after it was discovered.
---
Within a few year the
Hubble Space Telescope
was able to capture a much clearer view of
Hanny's Voorweep
and
astrophysicists
now know more about the unique object.
Current Hubble image of Hanny's Voorweep.

Credit: W. Keel / U. of Alabama, Tuscaloosa / NASA / ESA / Galaxy Zoo

Hanny's Voorwerp (HsV) is about the size of a small galaxy and has a central hole over 16,000 light years across. In the HST image, HsV is colored green, a standard false color that is used to represent the presence of several luminous emission lines of glowing oxygen. HsV has been shown to be at the same distance from Earth as the adjacent galaxy IC 2497, which is about 650 million light-years away.

Star birth is occurring in the region of HsV that faces IC 2497. Radio observations indicate that this is due to an outflow of gas arising from the IC 2497's core which is interacting with a small region of HsV to collapse and form stars. The youngest stars are several million years old.

A picture of HsV is presented on the NASA Astronomy Picture of the Day website with data taken by Dan Smith (Liverpool John Moores University), Peter Herbert (University of Hertfordshire) and Chris Lintott (University of Oxford) on the 2.5m Isaac Newton Telescope. HsV is the subject of a video made by Meghan Grey and Brady Haran on the University of Nottingham's Sixty Symbols YouTube Channel. Recently in June 2014, an interview with the discoverer Hanny van Arkel was broadcast on TEDx Ghent that can be found on YouTube.
Wikipedia
Hanny van Arkel
tells about her discovery and proves the usefulness of citizen science
---
On April 4, 2015
APOD
published a composite photo of other similar objects (voorweeps ) HST has found. This
LINK
will take you to a description of what has been found.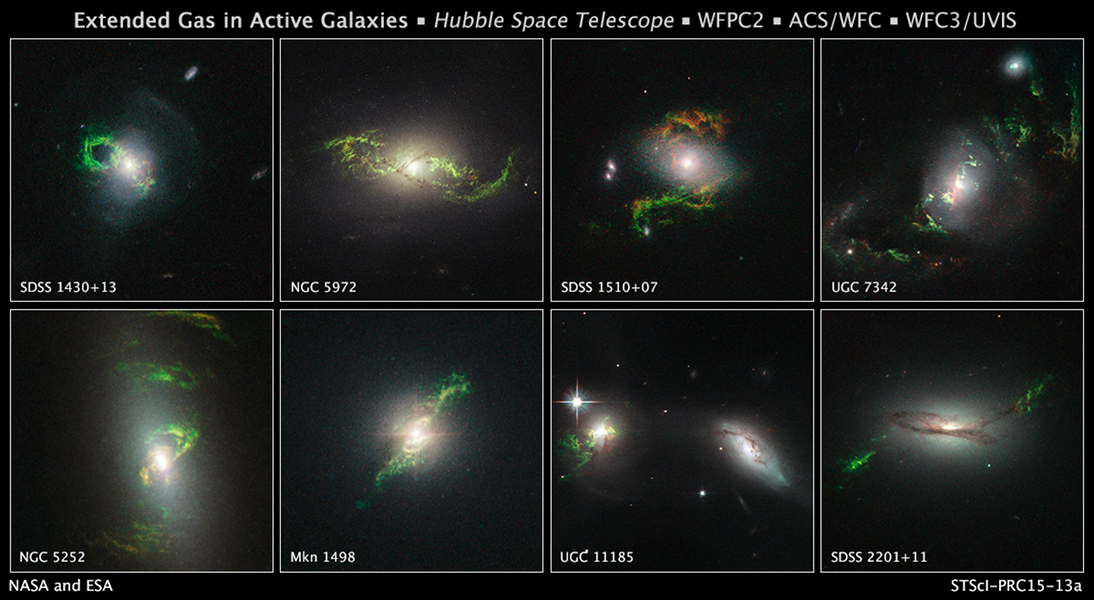 This post was created from material in the archived oGEC.
_________________________