Post by v6srs on Apr 7, 2015 19:51:09 GMT
I have had a fascination with flying boats since I was very young. I saw an epsiode of Ice Pilots NWT featuring the CL-215 "Water Bomber" and that prompted me to create a collection of all the examples of this aircraft visible in Google Earth.
The
CL-215
was originally built by Canadair and later by Bombardier. It was designed for short take off and landing from unprepared strips and open water, for fighting forest fires in rough terrain. It was redesigned as the
CL-415
which is still in production today.
Canadair started by looking at the design of the hugely successful PBY Catalina and produced a purpose built freighter/firefighter. The first deliveries were to the French Civil Protection Agency in 1969.
The CL-215 was produced from 1967 to 1990. 125 airframes were built in 5 distinct series. The aircraft was powered by 2 P&W 2100hp engines.
It is easily recognisable by its nearly rectangular main wing and horizontal tail surfaces.
The wingspan of 93ft 10in (28.6m) and length of 65ft (19.8m) also make it easily distinguishable from other flying boats and water bombers.
In 1987 the CL-215T was announced. This had P&W PW123AF Turboprop engines producing 2200HP and several aerodynamic and avionics enhancements compared to the CL-215.
25 CL-215s from series III, IV and V were converted to CL-215T's, 15 of these being operated by the Spanish government and 10 in Canada.
In 1992 Bombardier announced the CL-415, which had all the enhancements of the CL-215T and more.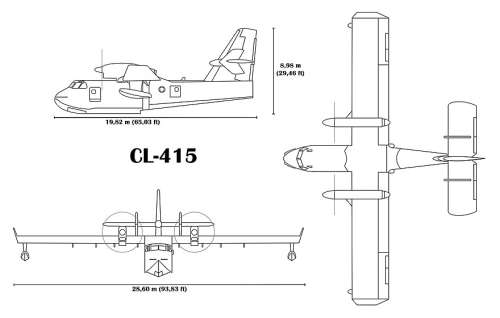 The CL-415 is still in production today as both a water bomber and a general purpose transport plane.
125 CL-215 aircraft were produced, of which 27 have been lost in accidents.
To date 95 CL-415 aircraft have been produced, of which 10 have been lost in accidents.
The CL-215/415 remains one of the most versatile fire fighting aircraft in the world today, because of its ability to refill its water tanks without landing. All it needs is around 12 seconds skimming over the surface of a lake or river to refill its water tanks. Compare this to 15 or 20 minutes on the ground for a DC-4 tanker, then you can see how useful these aircraft are.
The true testament to how useful these aircraft are, is that only 20 out of 220 have been retired from service(that I know of), mainly for salt water corrosion problems.
Of those 220 aircraft, 164 were still in service somewhere on the planet in 2016. Most of these are in Canada(58), Greece(21), France(12), Italy(19) and Spain(25). Many of the aircraft originally purchased by these countries were sold off to other countries such as Croatia and Turkey.
If you find any other examples of this aircraft, then please reply to this thread and I will add them to the collection.
Please note that it is almost impossible to differentiate between a CL-215T and CL-415 when viewed from above. Therefore I have designated planes as CL-415 unless I have proof that they are CL-215T variants.
All planes have their own place marks and are divided up according to the airport they are found at.
04-Apr-2021 : Complete rebuild of the collection. Now contains 80 visible aircraft.
08-Apr-2021 : Checked all Canadian Airports for new sightings. Now contains 101 visible aircraft.
15-Apr-2021 : 2 more added at McCall, Idaho. Now contains 103 visible aircraft.
23-Apr-2021 : 1 more added at Nice, France. Thanks to
willi1
for the location. Now contains 104 visible aircraft.