Post by diane9247 on Apr 22, 2016 0:04:42 GMT
Another icon gone. Prince Rogers Nelson, known simply as
Prince
, who brought a funk-influenced rock and roll to the masses, has died at his Paisley Park Studio in Minneapolis, Minnesota. He was found unresponsive in an elevator.
Paramedics tried to perform CPR but were unable to revive him, the sheriff said. He was pronounced dead at 10:07 a.m., less than 30 minutes after sheriff's deputies responded to a medical call at the scene.

Authorities are investigating the circumstances surrounding his death, Olson said. An autopsy will be performed by the Midwest regional medical examiner.

His promoters had said earlier in the month that he had the flu, had made several trips to a hospital, but he performed in Atlanta and then had a dance party at his estate. At that party, he made some puzzling statements to the crowd, "I can't play the guitar at all these days, so I can keep my mind on this (the solo piano) and get better," and then "Don't waste your prayers on me right now, you know, wait a few days."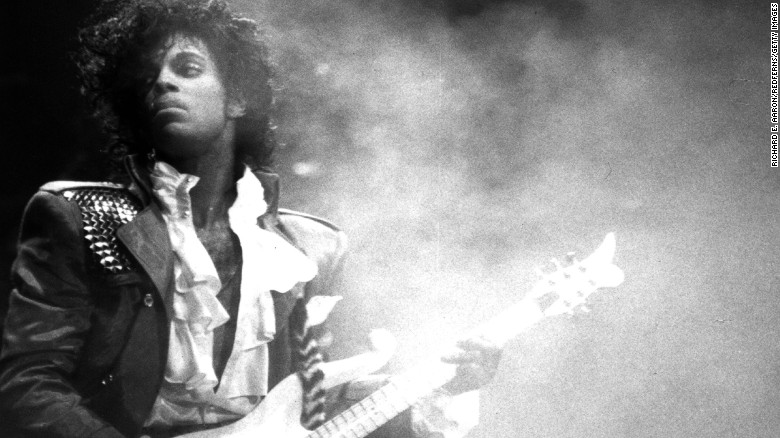 "As one of the most gifted and prolific musicians of our time, Prince did it all. Funk. R&B. Rock and roll. He was a virtuoso instrumentalist, a brilliant bandleader and an electrifying performer," U.S. President Barack Obama said in a statement. "

'A strong spirit transcends rules,' Prince once said - and nobody's spirit was stronger, bolder, or more creative."

(Photo and information from
CNN
.)
Prince was a stellar guitarist, as well as song writer and producer. His most famous song, and considered by most his masterpiece and one of the most influential songs ever in pop music:
His film
Purple Rain
, based on his early life in an abusive home and struggles to become a first class musician, received positive reviews and was a box-office hit.
A 1999 interview with Larry King showed an intelligent, articulate and innovative artist. Prince was respected and loved by fellow musicians, surely the mark of a good man and a fine musician. His loss is a real blow to the American music scene.
The magazine Foreign Policy posted this interesting take on some of Prince's ideas about
international affairs
.
Paisley Park Studios.kmz
(780 B)