Post by TomKjeldsen on Sept 21, 2015 14:36:57 GMT
Edward "Ned" Kelly, born between June 1854-55, hanged the 11th of November 1880, was an Irish Australian bushranger. He is considered by some to be a cold-blooded killer, by others to be a folk hero and symbol of Irish Australian resistance against oppression by the British ruling class and for his defiance of the colonial authorities in 19th century Australia. A child of a Irish father and a Australian farmers daughter he was born between June 1854 and June 1855 in Beveridge. 14 year old he was first arrested for assault, and at the age of 16 sentenced to three years imprisonment with hard labour for "feloniously receiving a horse". In 1878 Ned Kelly and his brother Dan went into hiding, where they later were joined by their friends Joe Byrne and Steve Hart and formed the Ned Kelly Gang.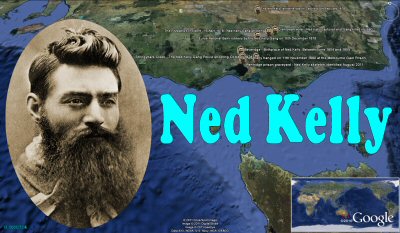 bigger picture
On 25 October 1878 police officers set off to search for the Kellys and set up a camp at Stringybark Creek. A second police party set off from Greta near the Wangaratta end, with the intention of closing in on Ned in a pincer movement. At the end 3 of the 4 policemen were killed during gunfire, and as a response to these killings the Victorian parliament passed the Felons' Apprehension Act which outlawed the gang and made it possible for anyone to shoot them. Following the killings at Stringybark, the gang committed two major robberies, at Euroa at 10 December 1878 and Jerilderie on Saturday 8 February 1879 which both involved the taking of hostages and robbing the bank safes.
Months prior to arriving in Jerilderie, and with help from Joe Byrne, Ned Kelly dictated a lengthy letter for publication describing his view of his activities and the treatment of his family and, more generally, the treatment of Irish Catholics by the police and the English and Irish Protestant squatters. The Jerilderie Letter, as it is called, is a document of 7,391 words and has become a famous piece of Australian literature.
The Kelly Gang arrived in Glenrowan on 27 June and took about 70 hostages at the Glenrowan Inn, wearing armour tough enough to repel bullets. The Kelly gang's attempt to derail the police train, they knew was comming, failed. Firearm shooting was started at dawn on Monday 28 June. The Kelly Gang members where shot and died in the hotel. At the end Ned Kelly was shot repeatedly in the legs and as he fell he was hit by a shotgun blast that injured his hip and right hand. Ned Kelly survived to stand trial, and was sentenced to death. When the judge uttered the customary words "May God have mercy on your soul", Kelly replied "I will go a little further than that, and say I will see you there when I go". At Ned's request, his photographic portrait was taken and he was granted farewell interviews with family members. His mother's last words to Ned were reported to be "Mind you die like a Kelly". He was hanged on 11 November 1880 at the Melbourne Gaol.
In August 2011, scientists publically confirmed a skeleton exhumed from the old Pentridge Prison's graveyard was that of Ned Kelly, after comparing the DNA to that of Kelly's great grand nephew.
Tracks, Path are supplied to help to assist the chronology of the placemarks. Descriptions, stories and information on the individual placemarks are mainly excerpts from the great compelling and comprehensive article
en.wikipedia.org/wiki/Ned_Kelly
on wikipedia. Tour creator: Tom Kjeldsen, created September 2011.

Download a identical copy of the attached file below from here (suitable for non Google Earth Community members)
This post is a re-post of this original 2011-09-09 Google Earth Community post (oGEC is no longer online since around 2015)