Post by diane9247 on Jun 5, 2015 6:46:12 GMT
The rare
Karabakh horse
is the national symbol of Azerbaijan and figures prominently in its culture, but it faces extinction. Near Sheki, a small city 187 miles (300km) from the capital of Baku, is one of world's largest and purest Karabakh herds. Yashar Guluzade owns the herd of 35 pure-bred horses and has been working for ten years to restore their numbers on his mountainous farm.
"At the beginning of the Armenian-Azerbaijani conflict the horses were continually transferred from one place to another and this was one of the reasons for the sharp reduction of stock as the movement of pregnant mares led to miscarriages," he explained.

The conflict, also known as the
Nagorno-Karabakh War
(late 1980s to May 1994), caused such disruption in the region that the horses were a low-priority problem. The government has recently stepped in to help save their national animal. It is estimated that there are fewer than 1,000 of these horses. They are known for their strength and speed and German horse breeding expert, Verena Scholian, has been working with the Azerbaijani government to advise on breeding programs and technical equipment. "I love handling them; they are calm, friendly and very sure footed," she said.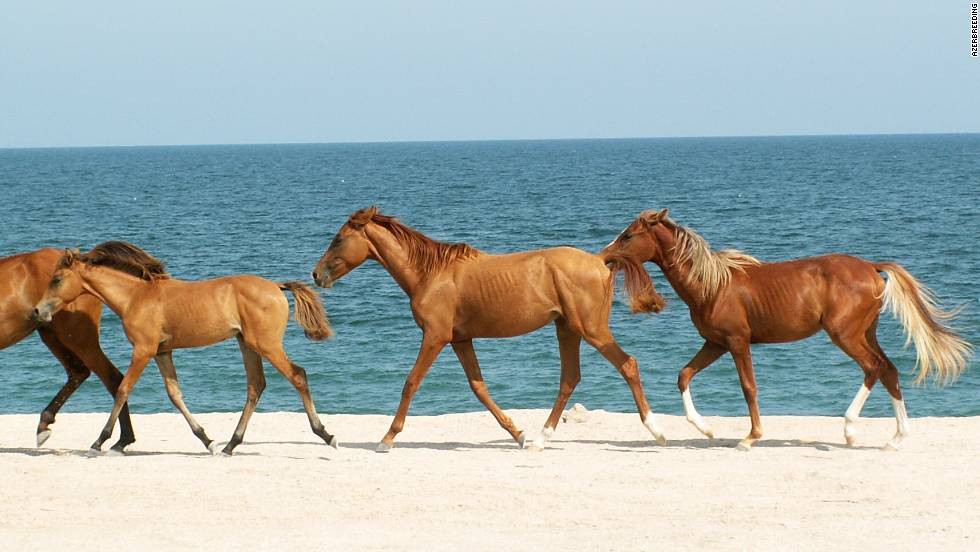 The Karabakh is a mountain-steppe horse, a result of cross-breeding, and has a coat that has been described as a "golden glow." According to
this source
, "The breed is thought to be a cross-breeding of Akhal-Teke, Persian, Kabarda, Turkoman, and Arabian horse." An early version of the breed became essential to the Azerbaijani mountain-dwellers for its adaptability in steep, forested terrain and in modern times have become almost exclusively race horses and status symbols for the wealthy.
"A Karabakh horse named Alyetmez, from the stud of Khurshidbanu Natavan-Utsmiyeva, accredited in the Second All-Russian exhibition. Photo from 1867." Image is public domain,
Wikipedia
Guluzade said, "My strategy for breeding was built on the premise that each pure bred mare should leave behind one offspring, preferably a mare. [...] I will continue my work in this direction where others have been irresponsible in the past."
Information and beach photo from
this source
. A complete breed history is
here
.
Karabakh horses.kmz
(1.07 KB)