Post by TomKjeldsen on Oct 27, 2015 16:32:30 GMT
The Snaefell Mountain Course is a road-racing street circuit used for the Isle of Man motorcycle TT race since 1911. The track course include a staggering 37.73 miles (60.72 km) long road race lane with the start and finish line at the TT Grandstand situated on the A2 Glencrutchery Road in the town of Douglas. The path is used for high speed racing in various motorcycle categories during the annual Isle of Man TT festival at the end of May and beginning of June. The more than hundred year old race has for years been seen as one of the most prestigious and oldest motorcycle races in the world and is regarded as one of, if not the most dangerous motorcycle road-race in the world.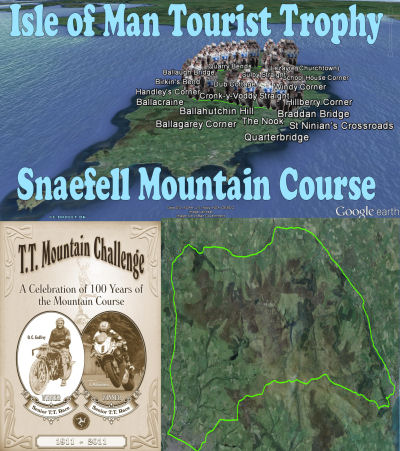 bigger picture
The yearly main event is the Senior Tourist Trophy (Senior TT) race, which currently include completing 6 consecutive laps.
"The current lap record for the Senior TT class is 17 Minutes and 3.6 seconds at an average speed of 132.7 mi/hr (213.5 km/hr) set by John McGuinness during the 2015 Senior TT Race. The race record for the Senior TT is 1 hour, 45 minutes and 20.394 seconds, at an average race speed of 128.943 mi/hr (207.5 km/hr) set by John McGuinness in 2013 during the 6 lap (236.4 Miles / 380.3 Kilometers) race. The longest race distance for a FIM Motorcycle Grand Prix World Championship event was the 500cc 1957 Isle of Man TT race. The 8 lap (302.0 Miles / 485.9 Kilometers) 1957 Senior TT race was won by Bob McIntyre riding a 500cc Gilera in 3 hours, 2 minutes and 57.0 seconds at an average race speed of 98.9 mi/hr (159.3 km/hr)."
It does not only have to be good skilled motorcycle drivers to ride a 236 miles / 380 kilometer tour in 1 hour and 45 minutes. When they furthermore do it on this track with hundreds of corners and elevations over a very long lap distance in ultra high speed, it's just impressive that anyone even dare to do this. Enjoy that someone are skilled enough to do this, but don't do this at home :-)
Fact sources and further info:
en.wikipedia.org/wiki/Snaefell_Mountain_Course
en.wikipedia.org/wiki/Senior_TT
Thanks to ET_explorer for initially pinpointing the TT grandstand placemark at the GEC forum.
googleearthcommunity.proboards.com/thread/765/isle-man-tt
Thanks to Kwaker76 at the oGEC for posting the track/path in "Isle of Man TT Snaefell Mountain Course by Kwaker76 11/05/09 - This is the course of the annual TT motorcycle races that take place on the Isle of Man".
productforums.google.com/forum/#
!topic/gec-sports-hobbies/848OeTAdNZE
This track/path is included in this file, in a slightly modified version where start and stop is corrected to the current TT grandstand race start.
About this "Isle of Man Tourist Trophy Snaefell Mountain Course":
Take a motorcycle ride on a 38 miles / 61 kilometer long track and see all major named corners on the track. Tour creator: Tom Kjeldsen, created october 2015. Recommended to be viewed as a 'Play tour' in Google Earth with terrain feature enabled. If you have any corrections, comments, additions feel free to comment in one of the forums on the internet. This file is also downloadable from
ge.dooley.dk
a few, kind of breathtaking, videos of driving REALLY fast on motorcycle:
Isle of Man Tourist Trophy Snaefell Mountain Course in Google Earth
200mph on-board with Michael Dunlop at the TT 2013 races!
GUY MARTIN vs MICHAEL DUNLOP @ 200mph! PURE ADRENALINE! On Bike POV Lap! Isle of Man TT RACES
Isle of Man TT-202mph=325.018 km/h.Street Race.2015

Download a identical copy of the attached file below from here (suitable for non Google Earth Community members)